Shop Fine Art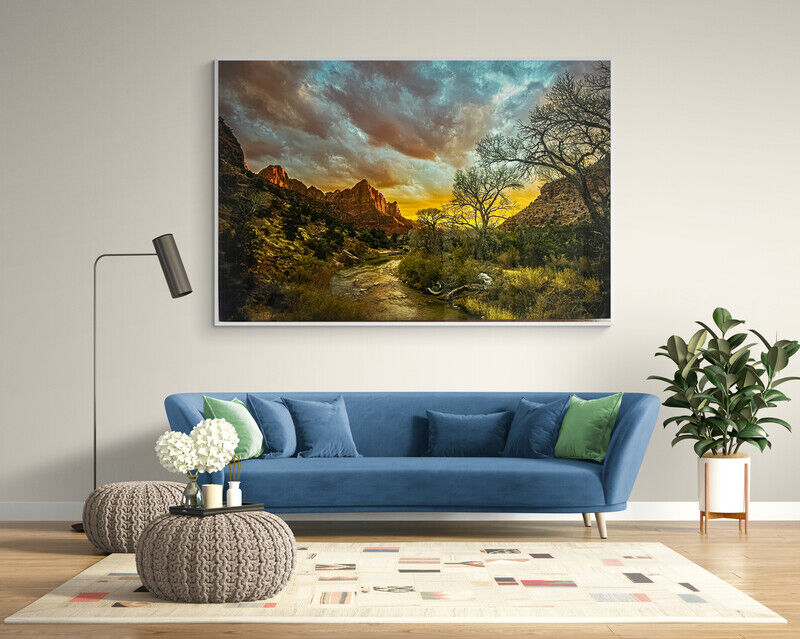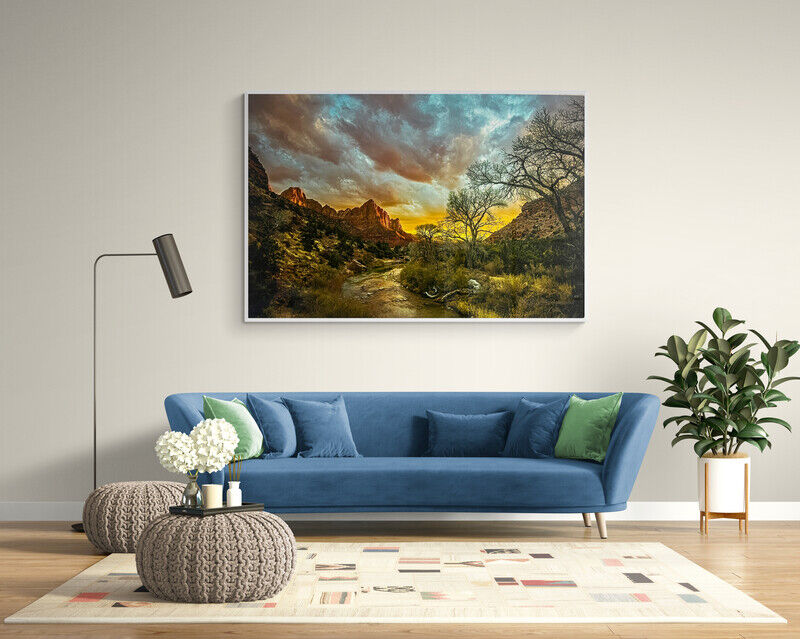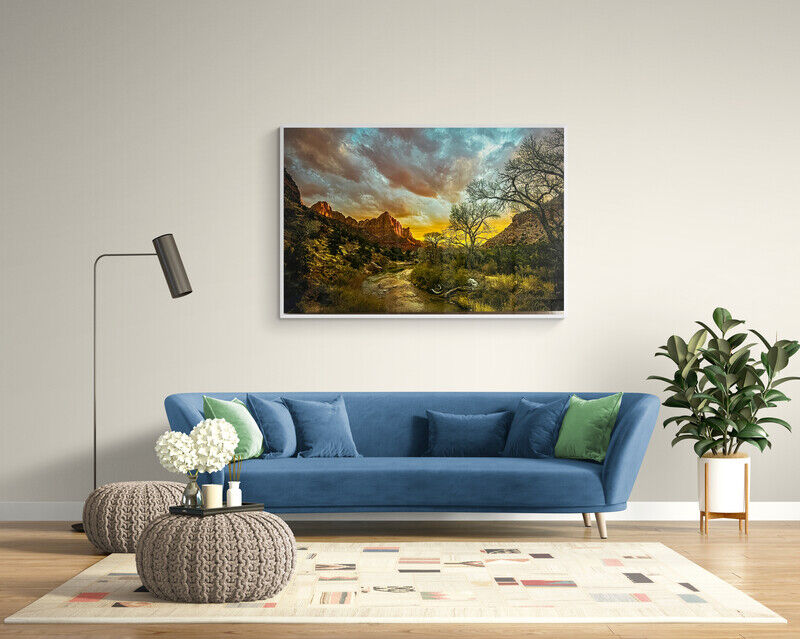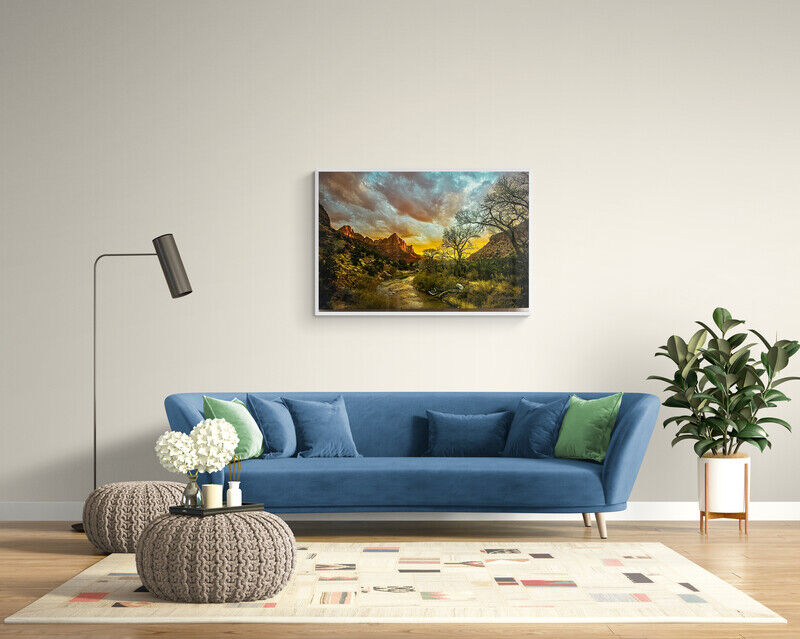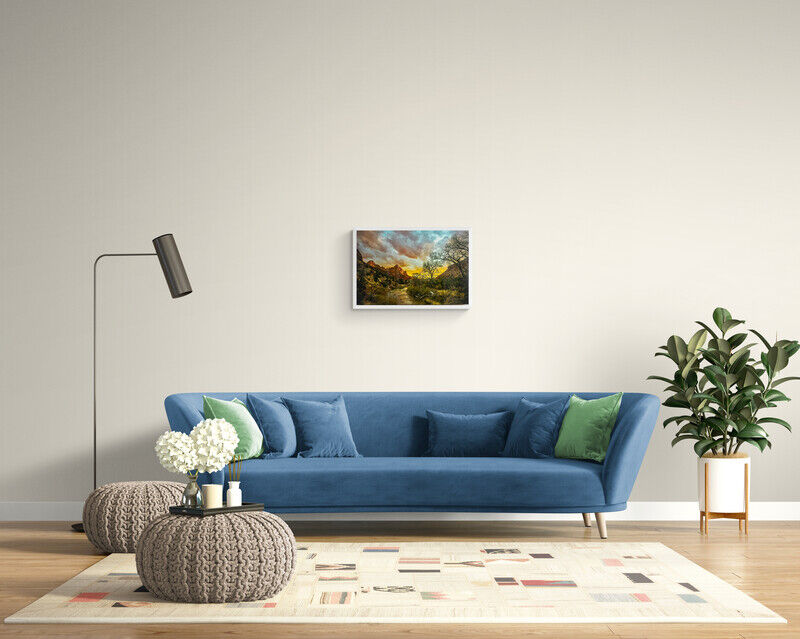 PRINT SIZES
I offer several different sizes mainly from 16 x 24 up to 56 x 84 and larger! I also offer vertical sizes and at least one square sized photo. Additionally, there are several panoramic sizes that cover much more horizontal space and less vertical space. An example would be 16 x 40. Larger prints can be made with a special request up to 120 inches wide! It's important to measure the area where you plan on displaying your art to select the best fit. See the sizes that are displayed with a 7 foot couch above. 24 x 36, 30 x 45, 40 x 60, 48 x 72 and 56 x 84. Also, don't forget about the lighting for your masterpiece!
FINE ART LANDSCAPE PHOTOGRAPHY PRINTS
I have selected the very best photos from a wide array of shots that I've taken and I am providing them to you for your enjoyment. Your prints are made to last a lifetime and are also a good investment.
PRINT MEDIUMS

Your prints are created using the highest quality metal and acrylic mediums. For most of your fine art prints non glare Lumachrome acrylic is preferably the best choice because it will bring out the contrast and colors the best when combined with the right lighting. Hence, it's the most expensive medium and well worth the cost! Metal also produces beautiful, detailed prints and is more affordable. The prints also come in various sizes depending on the camera I used to take the shot. Panorama's can be enlarged to the biggest size.

LUMACHROME TRUE LIFE ANTI - GLARE ACRYLIC PRINTS
Lumachrome is the ultimate in acrylic print technology. Lumachrome prints are found in the finest galleries in art destinations worldwide. Lumachrome prints surpass FujiFlex bringing unbelievable resolution, clarity, vibrancy, and Dmax with an incredible 3D image quality to your photo that can appear backlit and holographic. Details appear to emerge in 3D from the depths of the image with the Lumachrome process thanks to the transparency layer that is infused with iridium particles and is encapsulated in a layer suspended between the white poly surface and acrylic.
Characteristics:
- Brilliant colors lasting over 120 years

- Superior gamut vs traditional FujiFlex prints
- Incredible 3D depth and dimensionality
- Unsurpassed detail and ability to hold highlights
- Superior shadow luminosity and detail
- Radiant glowing response under halogen lighting
DYE SUBLUMINATION METAL PRINTS

Dye Sublimation - Luminous images that shine above the rest. Dye Sub is a process that combines fine art printing, high tech materials, and intense heat to produce a vibrant print fused to the surface of the aluminum sheet. The finished process is timeless (as well as modern) and lightweight for an easy hang. Dye sub prints works well in dry or humid, indoor environments. These prints are clear and shiny.

There are two versions of the metal print. The prints for sale on my website are strictly for inside your home. If you wish to purchase prints that are produced for outside display let me know and I'll special order them for you. They are sold at roughly a 25 percent higher price but are much more durable and last much longer in the elements.

DP MAX TEXTURED METAL PRINTS
DP MAX Textured - Brilliant images that work very well for those who want a metal print but do not want to sacrifice the viewing to light. They also have texture that you can touch and feel without worrying about making smudge marks.
LIGHTING/INSTALLATION

It's highly advisable to purchase individual lighting for each picture to enhance the fine art prints you select. LED lights with a color rendering index (CRO) rating between 3000-3200 brings out the clarity, "Pop" and 3D effects the best. With the correct lighting you'll be able to see the clear details of each of your prints. Amazingly, a night scene of the stars in your print will be dancing on your wall! Additionally, professional installation is preferred for larger prints.
PRINT PRICES
I offer competitive prices because I do not own a gallery. Artists who sell their art with galleries charge substantially more for their artwork. Sometimes I will set up a display at a location where you can actually see your prints before you purchase them. I will publish that information on social media and in the news section of this website on those occasions.
No sales tax: There is no charge for sales tax unless the art is purchased overseas.
Discounts: Occasionally, I offer discounts at certain times of the year in the news section and social media.
Additionally, I offer discounts on multiple purchases. Buy two for 5%, three for 10% and four for 15% off. All of the prints are ready to hang on the wall.
Free Shipping: Free shipping is included anywhere in the United State excluding Alaska and Hawaii. Please inquire for Alaska and Hawaii shipping costs if needed. For International shipping please inquire for your cost. Your print will be securely packaged and sent to you by the print lab. Each print comes with a 100 percent satisfaction guarantee from any damage to your print. Please notify me as soon as possible if you have any problems.

Production Times: The times will vary depending on the print and the location its being sent to but it normally takes between 3-4 weeks from the time you make your order until delivery.
Limited Editions: I will only produce a total number of 100 limited edition prints for each photo. 10 artists proofs may be available after each edition is sold out. I limit the edition size to increase the value of your fine art investment. When a print is close to reaching its limit the final ten pieces will increase in price. Prints are sold numbered 11 to 100 first, then the last numbered 10-1 to be sold before they are sold out with the exception of artist proofs. When this happens, I'll give a notice on my website's news section and through social media. Each print comes with my signature in the right-hand corner along with the print number and edition size (example 60/100). A signed and numbered Certificate of Authenticity will be mailed to you separately.

Check Out Process: To order a print please go to Galleries and click on the print you'd like to order. Then scroll down the page of the print you're purchasing and find the type of the print you wish to buy. Then click on the drop down menu and select the size you need. Once you've selected the prints you desire click on the shopping cart to finish your purchase via Stripe or PayPal. The site is safe and secure and kept up to date with the latest technologies.
PayPal: You can use PayPal if you have an account by pressing the PayPal button and filling out your information. PayPal is 100 percent secure and recognized as a trusted reliable e-commerce platform.
Pay with Card: This option uses Stripe to process your credit card. Stripe is a third party company that processes millions of credit card transactions. It is also 100 percent secure.
If you have any questions about the prints, the process, or the check out, please contact me. Thanks for your interest in my art!